1948
Before the summer of 1948, the few Catholic families living in Marathon traveled the two-lane Overseas Highway 50 miles to Key West to attend Mass at St. Mary Star of the Sea. The hazardous round-trip included passage over many bridges, including the old Bahia Honda and Seven Mile railroad bridges (the latter affectionately tagged "old shaky.")
1949
On January 2, 1949 Father Mairing celebrated Sunday Mass at the home of Mr. & Mrs. A.E. Woodburn for 15 pioneer parishioners. Throughout 1949 and 1950, the ever-faithful Father Mairing would travel from Key West to Marathon. He would hear confessions in the kitchen before Mass at the homes of Louis Fenton and Woodburns.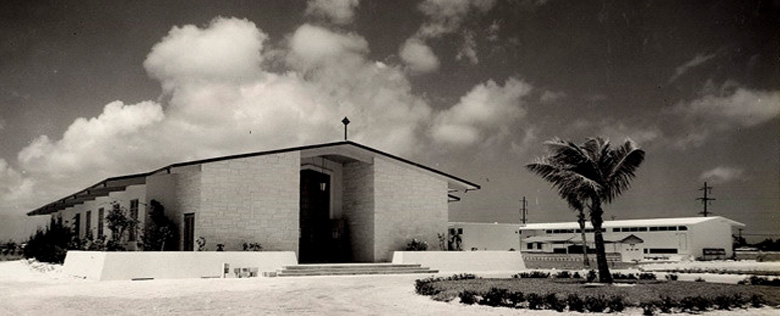 In June 1949, Louis Fenton offered one of his stores to accommodate the growing Catholic community. The first baptisms in the Fenton store (still in existence) in July 1949 were: Charles Funk, Carol Fenton and Joseph Aldocosta. The Fenton store continued to be used until the beginning of Advent 1949, when Mr. Brantner's "old fishin' hole" theater (now Kennedy Art & Framing Gallery) was used. The first Christmas Mass was celebrated by Father Mairing at 9:30 A.M. 1949.
1950
By the Spring of 1950, with the ever-increasing number of worshippers, Mass was celebrated at Mr. Struck's lumber yard (now Scotty's.) There the first Christmas Eve Midnight Mass was celebrated by the ever-loving and faithful Father Mairing in 1950. Complete with a nativity scene, a beautiful clear night, lights and Christmas trees, the small choir and congregation sang traditional carols, ending with Silent Night.
In August 1950, since there was no Catholic Church between Key West and Homestead, 150 miles to the east, Louis Fenton, Charley Toppino and A.E. Woodburn presented Bishop Hurley of St. Augustine a deed to the land on the corner of 50th and 51st Streets, Gulf (now Wendy's.) Ground was broken in September 1950. A small group of professional and amatuer builders, plumbers and electricians donated their time and expertise to build the Church.
In December 1950, Bishop Hurley rewarded these valiant missionaries by naming the Church "Mission of the Holy Cross" and Father Mairing its first shepherd. The first Holy Mass in the Chapel was celebrated on the first Sunday in February, 1951. Father Mairing and his associates continued for four years to serve the little Mission of the Holy Cross. By 1954, the Catholic population outgrew the small church. A building fund was established for a church and school.
On January 8, 1956, Bishop Hurley appointed Father James Connatughton as the first pastor of the Mission of the Holy Cross with parish boundaries covering an area of 93 miles along 23 island communities from Jewfish Creek to Ramrod Key, 18 miles from Key West. Father Connnaughton appointed his assistant, Father John O'Day, as administrator to San Pedro Church in Tavernier, then a Mission of Sacred Heart Church in Homestead.
The good "sisters of the Holy Names of Jesus and Mary" came from St. Mary's Star of the Sea each Saturday morning to instruct the young people in the fundamentals of Catholic faith. On May 13, 1956, 24 children made their First Holy Communion.
1956
In 1956, Father Connaughton organized the Ladies Altar Society, a Catholic Youth Organization, Summer Camps, and the Men's Booster Club.
In the fall of 1957, a small chapel, called St. Mary of the Pines, was opened on Big Pine Key (now St. Peter's.) Father Malumphy, a retired Army chaplain, helped Father Connaughton to organize this chapel.
1957 & 1958
In October 1957, the original mission site was deemed to be too small. Mr. F. Philip Sadowski, the father of Mrs. Sylvia Puto and a long time parishoner, donated a large parcel of land at 122nd Street, Ocean. In February 1958, Bishop Hurley re-named the Mission of the Holy Cross as the Church and Parish of San Pablo. Construction began on the new church in September 1958 and was completed in time for midnight Mass on Christmas Eve 1958.
The classrooms, arranged by Alan Schmitt, were two pre-fabricated buildings from Miami Beach. They were floated by barge 125 miles from Miami to Marathon. The classrooms arrived at 10am on August 18 at Yacht Harbor Island. Four sisters of the Holy Name from Albany, New York, arrived on the same day: they were Sister Frances Alice, Sister Mary Georgette, Sister Olive Denise and Sister Cecilia Rose. On September 2, 1958, San Pablo Catholic School opened its doors to 102 children, a full 3 months before the church was completed.
1959
On April 16, 1959, Bishop Coleman Carroll, newly appointed Bishop of Miami, along with Monsignor Barry, dedicated San Pablo Church in a Solemn High Mass. It was the first dedication of a church in the Florida Keys in 103 years. It was a happy day and a high watermark in establishing the Faith of Jesus Christ in the Middle Keys.
Since those early days, 14 shepherds have guided the flock.