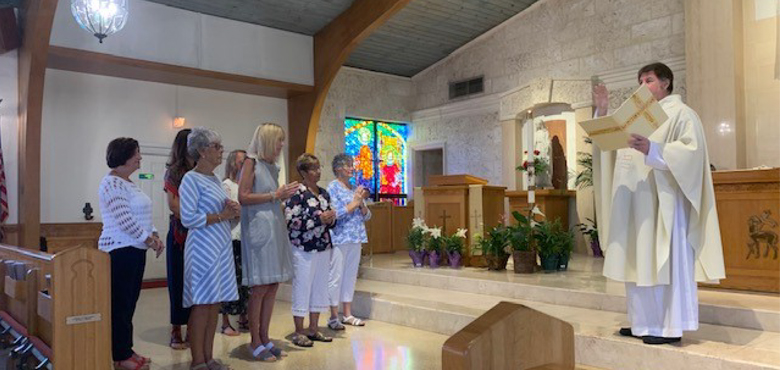 The San Pablo Women's Club meets on the second Monday of the month at the parish hall at 5:00 PM from October through April.
The club is primarily comprised of SEASONAL members.
Our goal is to provide opportunities for members to grow spiritually and develop relationships with parishioners through prayer, events and comradery.
There are a total of five (5) meetings and three (3) social events per season.
All are welcome and we really hope to see YOU!
Members

President: Sharon Starling
First Vice President: Leslie Calero
Second Vice President: Margie Casey
Treasurer: Kristen Locklin
Secretary: Debbi Roberts
Committee Chair Persons

Terry Rahn
Judy Fee
Angeline Kringle
Our sincere thanks for serving San Pablo.
We hope you have a nice summer and we look forward to seeing you again this Fall!
Next Events - Season 2023/2024
Tuesday, September 12, 2023
Christmas Dinner

December 11th
5:00 PM
Florida Steak and Lobster
Tuesday, September 12, 2023
Dinner and Speaker Meeting

January 8th
5:00 PM
Tuesday, September 12, 2023
Children of Mary Sisters

February 12th
5:00 PM
Tuesday, September 12, 2023
Mass for Deceased Members in the Church

March 2024
11:00 AM Mass
Church
Tuesday, September 12, 2023
Spring Luncheon

April 2024
8:00 am
Location TBA
Sunday, September 10, 2023
Dinner and Speaker Meeting

November 13th
5:00 PM
Church / Zoom